Here are step-by-step instructions on creating an SPW Publicity News Release.
Make sure you have everything ready to  upload:
Proper permissions and clearances from any and all collaborators and 3rd parties involved in the release's information, videos and images. Required.
Release Text: Headline, Subhead, Location, Body text, Contact(s) info, etc. Required.
Image(s): 8 images can be uploaded and at least 1 image is Required. The required image appears to left of your releases headline and also is the image that is sent on abstarcts to SHOOT ePubs, search engines,  Twitter & Facebook, etc, etc.  The suggested file type/size: 652 x 400 px, jpeg, gif, or png format, file less than 250K, and nor more than 150 dpi, color RGB  More on image specs
Video file or YT / Vimeo share link: (Optional. No extra charge.) MP4 or Vimeo / YouTube sharing link (Note: if you have video file other than MP4 SHOOT provides a free, easy-to-use, transcoder to convert your video, and produce 6 thumbnails to choose from for a teaser image, in the SPW New Release upload form)
Thumbnail/Poster/Teaser Image:  Custom made or a screen grab from video is fine.  Suggested file type/size: 652 x 400 px, jpeg, gif, or png format, file less than 350K, and no more than 150 dpi, color RGB
Video description: Optional. 1000 characters or less.  We suggest a brief summary about your video no more than a couple of paragraphs long. Clear, concise descriptions work best. Besides keeping your video's description short and compelling, the description must be SEO friendly–i.e. keywords that will find your target audience. Links are especially important for your description as it's a way to promote your other videos and drive traffic to your website or other social media networks.
Video credits:  Giving credit where credit is due is one of SHOOT's top policies. Credits should include people and company names such as director, producer(s), writer(s), editor(s), VFX (if any), music & sound talent, people at advertiser & ad agency (if commercial), production and post company(s), acting talent, and others involved in the production. NOTE: The more credits the better…. Credits are an excellent way to boost your publicity news page's SEO and social networking because giving credit creates incentive your collaborators and their companies to spread the word about your publicity news release.
Credit card to pay $60. promotion fee. (Site registration for SPW Services is FREE)
2) You'll need to login (https://members.shootonline.com/user/login) or create (Register) a FREE account (https://members.shootonline.com/user/register) Note: Usernames are public in certain parts of site so you may want to make your username something other than your email (i.e. last name or company name). You can always log in using your username or email and password.
3) Once logged in you need to Purchase an  SPW Publicity New Release here: https://members.shootonline.com/purchase/spw or click on the MY SPW tab in your member area then on PURCHASE SPW SERVICES link in your My SPW admin area here: https://shootonline.com/my-content/spw   After you've purchased an SPW Video Publicity Release(s) (i.e. Completed Checkout), click on "My Membership Area" on the THANK YOU page  (see screenshot below)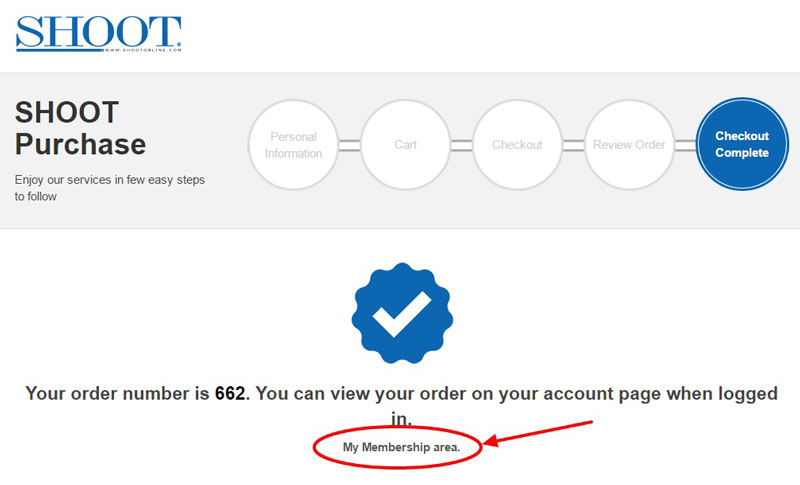 Then click in your My Membership Area click on the My SPW Content tab: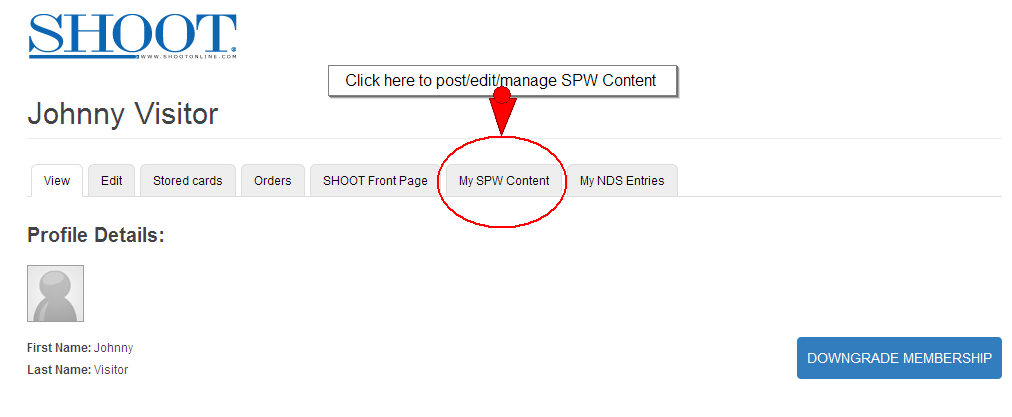 Alternatively, if you're logged in, you open the SHOOT navigation box (nine squares in the upper right on the majority of SHOOT's web pages,) and click on the My SPW icon.

2) Click on the POST SPW Publicity News Release link. Note: that you can keep track of your available releases, by release type, to the left of the SPW logo.  In this case, we have 1 unused SPW video post and 31 SPW News Release Posts remaining.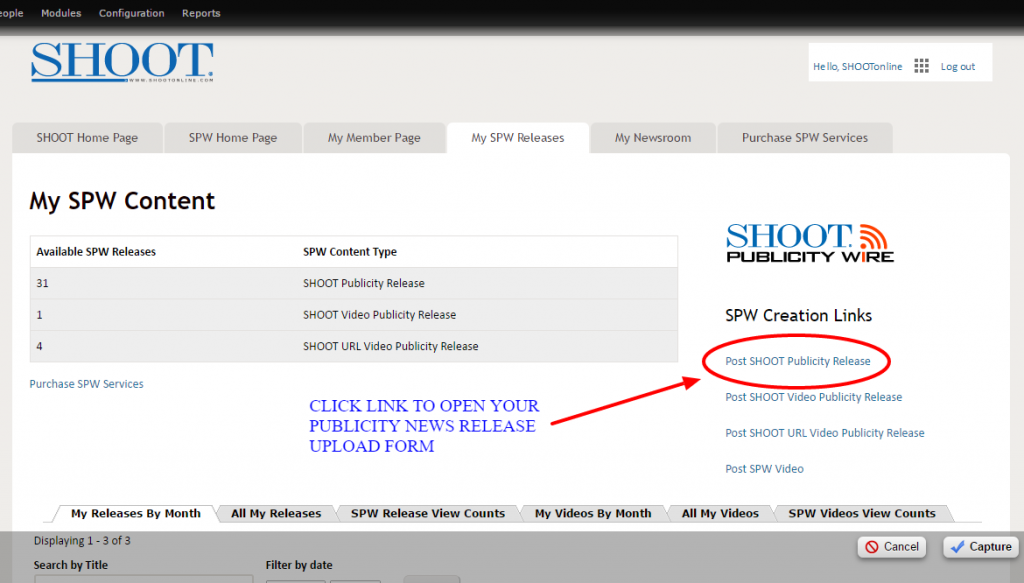 3) Create your SPW News Release. The SPW News Release upload form is divided into a series of tabs. (See screenshot below.)
Step 1– The SPW Disclaimer:  The "I agree" checkbox is required. Do not take this lightly.  Once your release goes live any people, companies, copyright owners and trademark owners will learn about it–sometimes within minutes of publication. Be careful.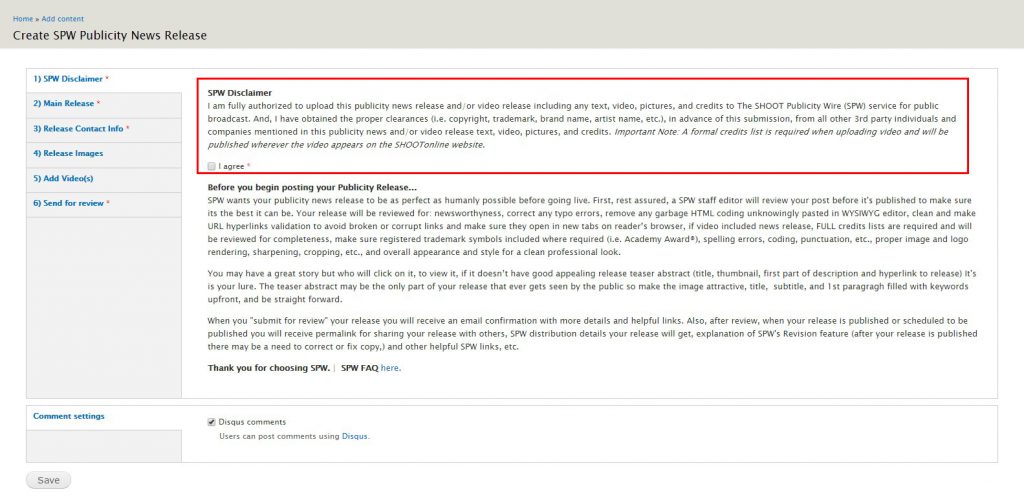 Step 2–Your Main Release. This consists of the publicity release's headline, subhead, location, date, tags, category, and body.  The headline, subhead, and location are important because these three fields, along with the body make up the release's abstract. This is like a calling card to search engines and social sites, and they also appear on SHOOT's epubs.
The introductory paragraph of the release should include the five w's: who, what, where, why, and when. Afterwards, you can elaborate on the introductory paragraph with further explanation,  statistics, some background, or any other relevant details you can think of.
The date field is important because it tells us when you want your release published. This field defaults to the time you're posting the release, so if you want immediate publication, leave the field as is.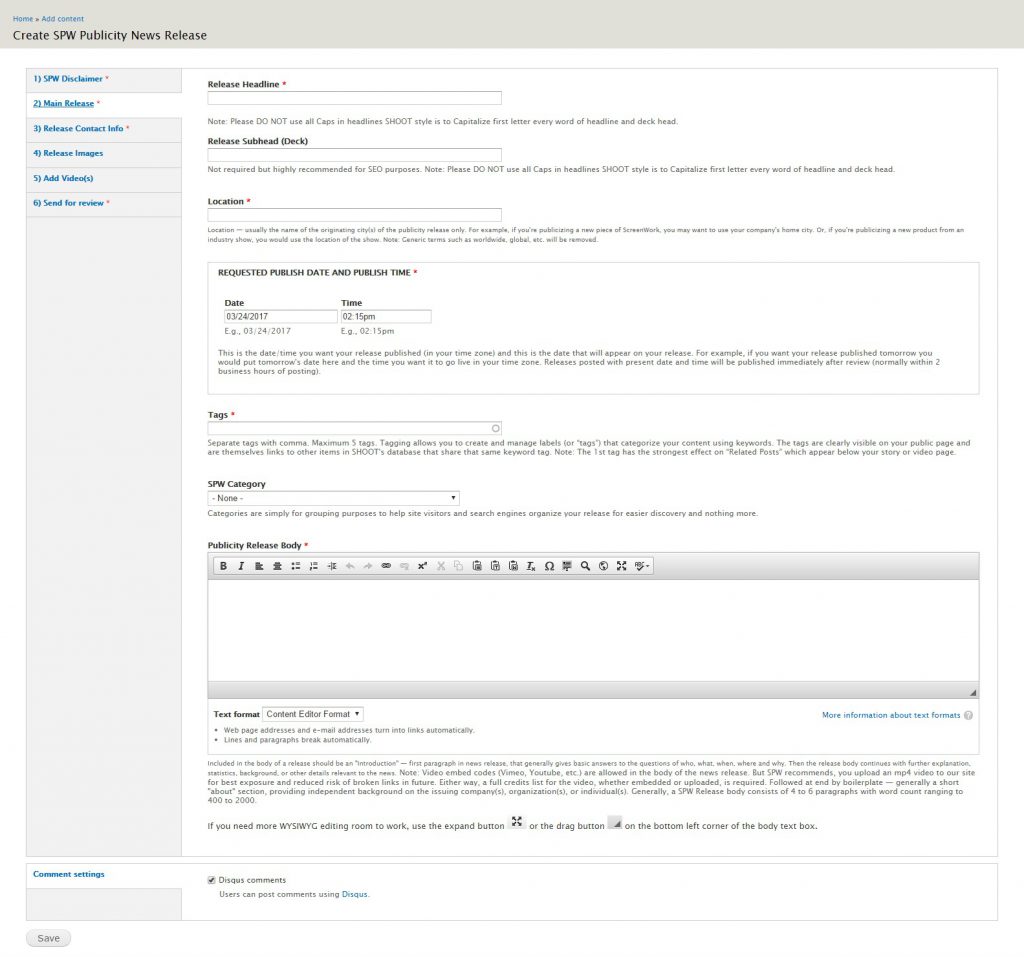 Step 3–Release Contact Info. Here, you can enter contact information relevant to the release.  Up to three contacts can be added here, and they can be either company or media contacts. They will appear in a grid below the body copy of the finished release. Note that you must include at least one contact in your release.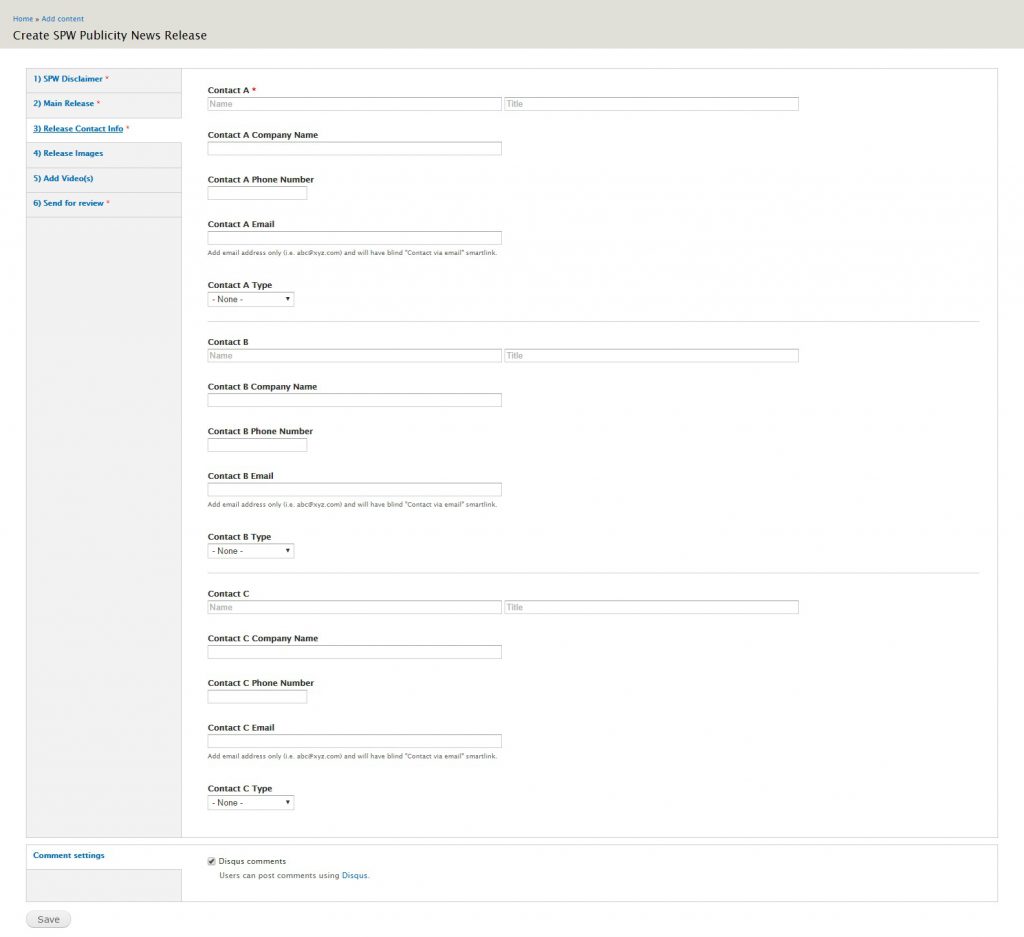 Step 4–Release Images. In this tab, you'll upload any images for your release.  The release image appears to the image that appears to the left of the headline on the finished release.  This image is also used in the abstracts that appear on the SHOOTonline homepage, and the SPW homepage.  It also appears on the SHOOT Dailies and Brand New[s] email newsletters.  The recommended size for the release image is 652 pixels wide by 400 pixels high, at a resolution of 150 dpi.
The caption for the release image should be concise.  If a photographer credit is needed, it can be included in parentheses within the caption.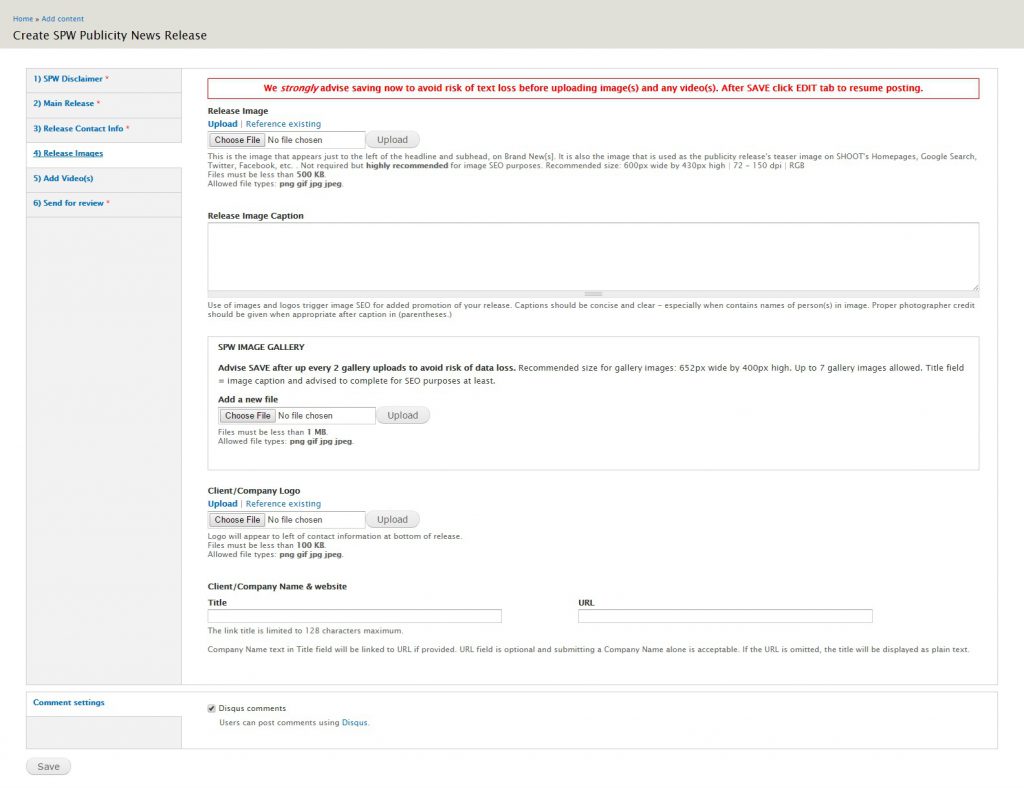 Step 5–Adding Video(s). In this tab, you can add up to three videos in your release.  Begin by clicking the Add New Video button. (See screenshot.)

After you click the Add New Video button, the following form will appear. (See screenshot).  The video title, teaser image, video credits, and video description are required.
Note that you have a choice to either upload a video, or use a Vimeo/Youtube link.  If you want to upload a video, SHOOT only accepts mp4 files. If you don't have an mp4, we offer a free transcoder which will create an mp4 video and six thumbnails for you. See how to use the transcoder here.
You can add up to three videos to your release.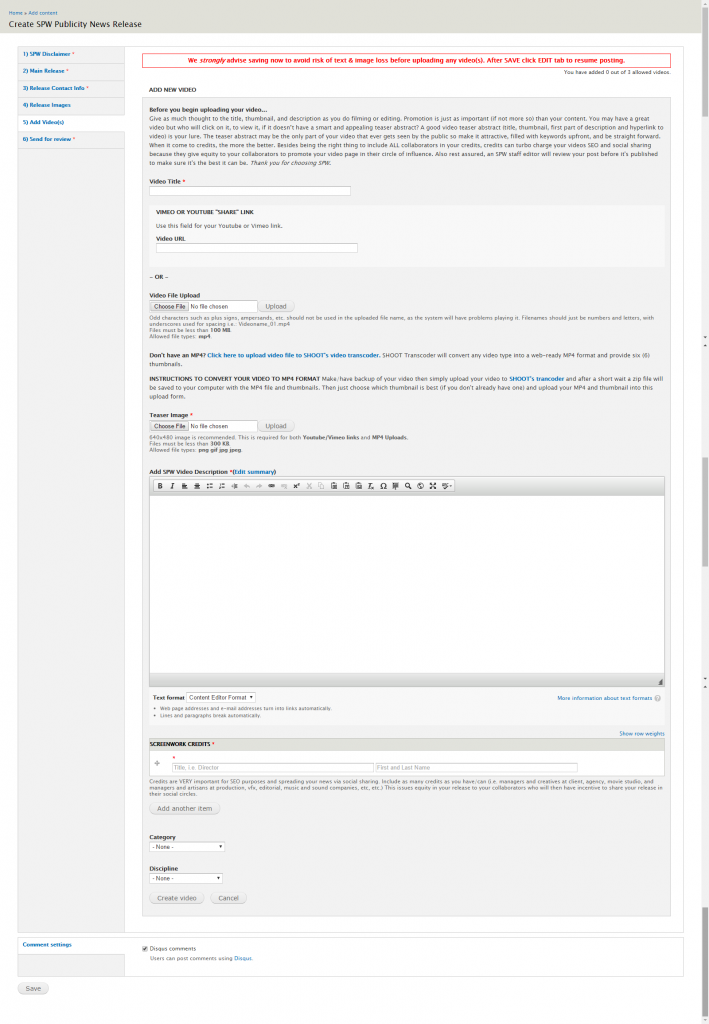 Step 6–Send For Review.  If you're done editing your release, in this tab you can choose SEND FOR REVIEW. (See screenshot.) Be aware that you will be locked out of your release while it's under review. You'll get an email in the event of the release's publication.

Here's a screencast detailing how to post an SPW Release.